Educational Field Trips for Maui County Keiki
Friends of Twin Falls (FTF) is a community-based non-profit organization that invites all public and private educational institutions to collaborate with us in discovering and understanding the natural surroundings at Wailele Farms. Situated in Huelo on Maui's North Shore, our area is committed to maintaining unrestricted public access as a source of inspiration for everyone. Wailele Farms, our home base, is a family-run farm with a focus on biodiversity.
We are dedicated to promoting educational engagement for Maui's students, inviting them to visit and learn about our farm's produce, business operations, eco-tourism management, stream health, restoration efforts, and more. As an emerging non-profit, we are introducing educational field trip programs and extending our school partnerships. Our evolving offerings include science-based curricula, hands-on learning, and educational volunteer opportunities. We continue to forge connections with environmentally-conscious organizations to collaborate and deliver the most impactful educational experiences during visits to our farm.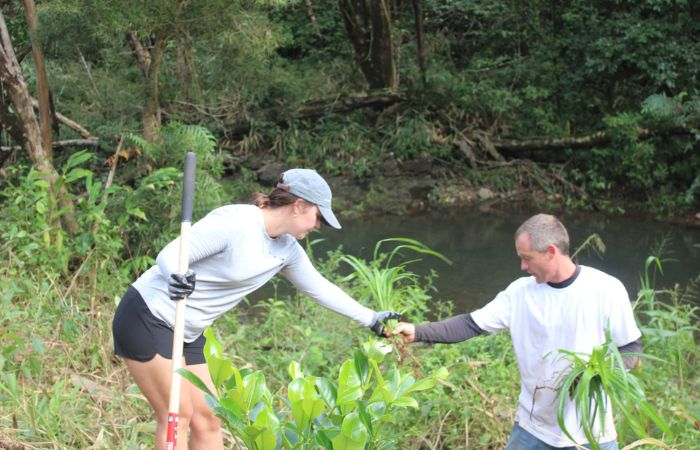 What to Expect
Field Trips are offered free of cost to students grades Kindergarten through High School. As such, the curriculum of each field trip will vary from grade to grade. Groups will be given an opportunity to explore a working farm, fields of both invasive and Native plants (over 350 species) and habitats, and wildlife. They will also have an opportunity to see how a running stream intersects and works in harmony within the valley. This allows for a sensory experience with nature and makes real life connections to topics such as biology, ecology, geology and biodiversity. We are able to tailor our offerings depending on what topics you are studying in school, in order to bridge your classroom learning with our outdoor experiences.
A Typical Experience
It is expected that a typical field trip will last 2 ½ hours to explore our farm. Arriving at 9:00 am, explorations and experiences will typically last two to three hours. We have facilities to host a place for you to enjoy your home lunch on our farm, which is an option as well.
Experiences will depend on your own classroom needs and curriculum. For example, when a private high school group visited, we collected water samples so that they could experience data collection in the field. They were able to evaluate samples, and take that back into the classroom for further discussions and usage. Another group was exploring Hawaiian cordage, they were able to collect hau, experience the process, work with pre-processed materials, and complete a finished project all while on the farm.
Working with our coordinator, the field trip will be led by environmental specialists, who are well versed in guiding groups through outdoor explorations, hands-on experiences, and pre-planned activities. Coming soon will be field trips aligned with DOE standards as well.
For More Information
We look forward to hosting your group. We value the education of our Maui Keiki, and encourage the ability for them to explore our farm, engage in nature, and learn from hands-on experience to make meaningful connections to our environment.
Maile Davis
Field Trip Coordinator, 808-385-3176
Planning Guide | Online Inquiry Form | Photo Release Form
6300 Hana Highway, Haiku, HI, 96708